"A Walk Around the Market" Beginners DVD Course.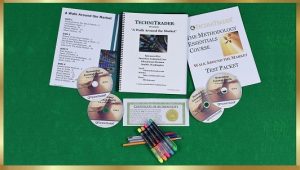 Enrollment: The Walk Around the Market Beginners DVD Course is for people who have no stock trading experience or very limited investing experience.  It is a complete beginners course on every aspect of the stock market introducing all the basics of stock trading.
Start by watching the peek inside video to see what is taught in this course.
Who will benefit from the Beginners Stock Market DVD course:
Beginners just starting to learn about the stock market, novices with less than 2 years of live market experience. The course goes step by step into understanding the what, where, when, how, and why of stock investing and trading.
This course was designed specifically to give the new investor or novice trader the basics of the stock market they need to know before you ever buy your first stock.
The Walk around the course manual along with corresponding TechniTrader DVDS are designed to maximize your learning experience, as there are numerous detailed explanations and examples throughout each entire course.
Is this all I need to know?
If you are new to trading stocks, this will give you a complete training on the basics of the stock market. We specialize in teaching the beginner who needs that extra attention to help them get started.
First, watch the introduction video and Peek Inside Video which show you what you will learn.
Next, download the Course Syllabus to see the entire outline of what is taught.
Then give us a call for further information. 888-846-5577.
If you are still unsure, then visit our Learning Library and watch several webinars. This will show you how we teach.
---
Need help deciding if this is the right course for you?
Sign up to view the course content at the top of this page.
Then, contact a curriculum advisor.