How to Day Trade Stocks Video teaches you what day trading is and is not. This training also shows you how to day trade and tips.

To watch this TechniTrader Video training, please log in. If you do not have a login, please sign up.

We have a complete Library of webinars and virtual training seminars. If you need to study a specific topic on day trading, such as what indicators to use, entry signals, risk analysis, run gain potential profits, trade management, or whatever, you can: Sign up and request that topic, email info@technitrader.com, or call us to request a specific topic training video or webinar.

DAY TRADING

Basic Requirements:
Hold Time: Up to 1 day or EOD-FOD strategy
Market Analysis, Technical Skill Level: Novice to Expert levels
Fundamental Analysis: No. Except for earnings strategies.

Risk Tolerance: Moderate to High
Capital Base: At least $25,000, but more is recommended.
Time Commitment: 2–8 hours per trading day.
Temperament: Very confident in analysis skills and the ability to make quick, effective decisions. High Spatial Pattern Recognition Skills™, excellent Relational Technical Analysis™ skills, use of hybrid leading indicators for optimal stock pick selection.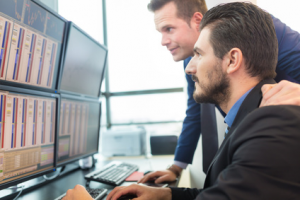 Day Trading is what most people think they want to do when they first become interested in trading stocks or other financial markets. There are many styles or types of Day Trading. Day Traders can learn to swing trade, momentum trade, or velocity trade depending on the daily trading conditions and their skill levels. There is also the new professional style of Day Trading called End of Day-First of Day (EOD-FOD), which is extremely popular with professional traders, proprietary desk traders, and independent technical traders.
The first step in learning to Day Trade is to develop excellent trading skills, a trading process, and your personal goals. Then, any style and the appropriate strategies can be applied. This is a demanding trading style that requires higher skill sets, and it is recommended that beginners to novice-level traders first learn the standard swing-style trading to develop excellent Spatial Pattern Recognition Skills (SPRS) and learn risk tolerance.
Day Trading tends to require a higher share lot size and higher liquidity stocks to be successful. Although the majority of retail day traders make mediocre profits, such as 25 cents on a trade, TechniTrader Students learn how to find stocks with high point run gain potential for significantly higher points gain per trade, making Day Trading a career with excellent monthly income potential.
To find out more about our Swing Trading DVD Course for Day and Swing Traders, please visit our Swing Trading DVD Course Page.
There are innumerable ways to intraday and day trade, and countless strategies. But the foundational requirement is the same for all day trading strategies: The ability to read stock charts effectively so that you know with a high degree of probability that the stock is going to move up or down and not just flutter in small consolidations throughout the day.
Day Trading and Intraday Trading both require expert-level technical analysis skills, years of trading experience, and nerves of steel to do well at. These are not trading styles for beginners.
Such short-term trading styles are very sensitive to market condition shifts, unexpected news, bias, and energy. A lack of intraday energy can cause huge losses quickly. So, stocks must be chosen with extreme care. Momentum-based scans using indicators that show energy before price moves are essential to Intraday and Day Trading.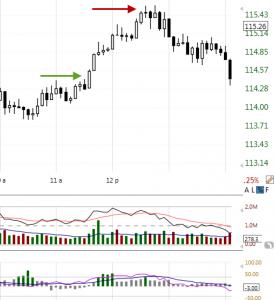 A day trade looks a lot like a swing trade, just studied and executed on intraday timeframes—1 minute, 5 minute, etc.
To find stocks to trade, you go through the same process as you would for swing or momentum trading: By focusing on stocks poised to move with good energy the next day using leading scans, candlestick patterns, and indicators. Preparation is the key to intraday and day trading success.
History of Day Trading
Day Trading became popular during the early days of personal computers, when a few professional traders decided to become freelance day traders and trade against the market makers. Market makers are all day traders, so these individuals were well-trained and understood Day Trading in a way most average traders do not.
In the 1990s when online brokers took off, retail traders suddenly became aware of 'day trading', and a whole new sector in the financial industry was born to cater to the retail trader's every whim.
Day Trading has become less lucrative and more difficult in the modern markets, with the advent of decimals rather than fractions for pricing. That one change altered how retail traders traded intraday, and caused the rise of High Frequency Trading. Decimals have all but eliminated the wide spreads that used to allow a day trader to get in and out quickly to make a small profit by "scalping". Nowadays, spreads are often just a penny between the bid and ask. Market makers and the skilled floor traders, etc. all claim this makes the market more efficient. But it also creates havoc for intraday retail day traders who keep stops too tight. And High Frequency Trading makes it even more difficult for retail day traders to make good profits. The reason Day Trading now has higher requirements from most brokers is because so many amateur day traders have had huge losses.
So, before you decide to pursue Day Trading, consider the requirements and be sure to get the training you need to do the analysis, and the practice and experience you need to develop the discipline required for this demanding trading style.
For Day Trading, you need to learn:
♦   Market Condition Analysis
♦   Precision entries and exits using the New Western Candlestick Patterns™
♦   How to use leading indicators to confirm the energy behind the price action.
♦   Spatial Pattern Recognition Skills™ for finding the best trendline patterns for intraday or day trading and also for reward/risk analysis.