What Is the Best Diversification Method for Stock Investing?
Look for New Technologies in Sector Groups
Nearly every long-term investor wants to know about diversification for their portfolio. The classic "diversified portfolio" was not intended to be the best method to increase wealth for the individual investor portfolio. What it is designed to do is to protect an investor from catastrophic losses.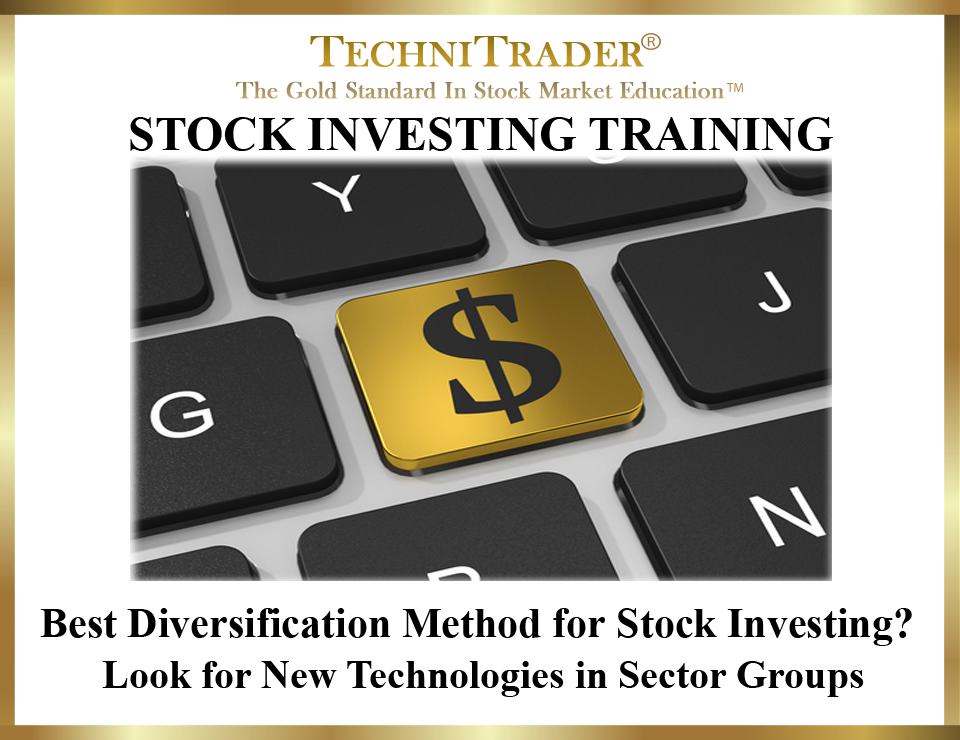 The theory goes that if one area of the market is collapsing, then a diversified portfolio will have some area that is performing well and the gains will offset the losses. The result is often a flat portfolio. It is for a frightened investor who worries more about losing money than making money.
The whole idea behind how to invest in stocks is to allow you to make profits in a non-earned income way. Let's separate trading, which is a business that is earned income, from long-term investing.
Investment/Retirement Course
How to Invest for Long Term and Retirement, featuring the Vertical Rotational Diversification Method™. Learn MORE
Stock investing should provide a means for wealth accumulation, while trading provides a means for monthly income and living expenses.
Many traders try to use their trading activity to build wealth, and that is not the proper mode. Trading should be used to increase your capital base to a certain level and for monthly living expenses or whatever immediate cash needs you have. Your true wealth accumulation should come from your longer-term investments.
It is best to have two separate accounts: One for trading, the other for investing. Keep them entirely separate.
There will be times when a short-term trade turns into a stock for long-term investing. That is a rather ideal way to buy long-term because the risk is greatly reduced and you can often be in high profit before you ever turn the stock over to the long-term portfolio. In these instances, you can be very comfortable with the wide stop losses that long-term investing requires. Trading a stock toward a long-term hold is also a way to become familiar with a young company that is without much name brand status or recognition.
Diversification: Throw away everything you have heard and everything you know about diversification if you really want to make great profits with stock investing for the long term. The standard diversification was designed to comfort and console the uninformed investor who is really afraid of the market but is also anxious not to miss out. It is not the ideal portfolio or method. It is the safe method that works okay until a major Stock Market Crash like we had in 2000, but it fails miserably then and in the meantime gives meager profits.
Properly Diversify by Looking for New Technologies in Sector Groups:
Define the 3 or 4 main new industries that are going to lead the market in the next few years.
Define the big blue chips that are moving slowly toward reinvention under the new industries. Most investors are already holding blue-chip stocks long-term. Study your holdings and determine which to eliminate based upon new technology. Old technology will not move as well as the new technology.
Define the major sector groups in each new industry.
Determine the Market Introduction Phase for each sector.
Determine the next phase of sectors that will come to market out of each new technology.
Determine the final group of sectors that will come to market out of each new technology.
Once you have this information, choose to diversify by selecting stocks from each new industry. Select stocks from a variety of sectors within each industry. Then, by selecting stocks that are big blue-chip, mid-cap, small cap, Initial Public Offering (IPO), and/or Bulletin Board stocks to watch and research, eventually enter either starting out as a short-term trade or moving directly to a long-term hold.
Bonds, Annuities, Futures, Indexes, Commodities, Real Estate, and other kinds of long-term investments other than stocks should be timed to coincide with economic events that will provide lucrative investments. A savvy investor will start looking into new technology stocks in preparation for the next Bull Market.
With each type of investment, the long-term investor needs to be thinking ahead instead of reacting to an event already underway. If you are interested in a widely diversified portfolio, you must study each area of potential investment that is not a stock and define the events that would cause those areas of investments to surge strongly. For example, Bonds and Money Market Accounts are tied to interest rates, whereas Commodities are tied to weather and political events.
Use these kinds of investments during economic times when stocks are not performing strongly for the long term and when such investments have a coming event that will make the investment boom.
Plan to move monies in and out of investments as needed due to economic and global events, and do not just stick your money somewhere and hope. Investing in stocks is like having a garden that you must plant, weed, watch over carefully, and eventually harvest the abundance, because if you do not, they will die on the vine.
In my opinion, this is the ideal way to diversify. It defies the standard diversified portfolio, but for savvy, well-informed, and well-educated investors, it provides the maximum potential for growth.
It may seem like a radical approach to those who have been long-term investors for decades. Instead of thinking laterally and spreading out your investments over a wide area for a period of years, think vertically by keeping your investments in a channel that shifts in different directions as the years pass and new events create new opportunities.
Summary
Long-term investing is usually done without much forethought or analysis. Usually, someone rushes to a broker, dumps money into an account diversifying laterally, and hopes for the best. This requires minimal effort and generally provides minimal results.
Take some time to sit down and write out your long-term goals. Think vertically and begin formulating a plan to achieve your goals. Be prepared to take some time to study and research, and consider that many times you will be watching a stock for a long time before you ever buy it. Realize that profits and wealth accumulation will be in direct relationship to the time and effort put into long-term portfolio study and research.
Go to the TechniTrader Learning Center and watch a training webinar.
Go learn about the TechniTrader Investment & Retirement Course.
Trade Wisely,
Martha Stokes CMT
Chartered Market Technician
Instructor & Developer of TechniTrader Stock & Option Courses
Copyright ©2015–2021 Decisions Unlimited, Inc. dba TechniTrader. All rights reserved.
TechniTrader is also a registered trademark of Decisions Unlimited, Inc.