Online Lab Classes by TechniTrader Week 8
Psychology of Support & Resistance
Online Lab Class Start:

5/14/19 – 7/9/19

(Students Only)
This lab teaches you how to understand and use support and resistance to your advantage for all types of trading styles. Lessons are designed around short to intermediate term trading styles with homework assignments to improve your skills in this area.
This lab class is an in-depth study of support and resistance and the role both play in the analysis of risk and reward of a trade. All trading styles will benefit from this class.
This 8-week Online Lab Class includes: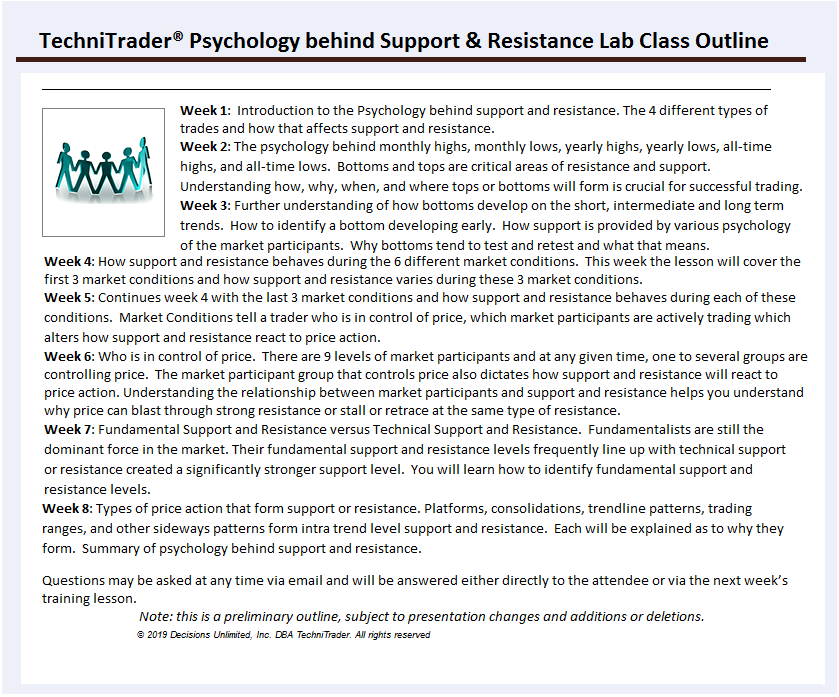 *This course is available to TechniTrader Students.
Become a TechniTader student with any complete Methodology Essentials Courses

IPO Lab Class
Online Lab Class Start:

5/14/19 – 7/9/19

(Students Only)
This brand new Lab Class was created as students were requesting more training on investing and trading in Initial Public Offerings. With more and more IPOs coming to market in the next few years, now is the time to learn how to select the best IPOs for investing or for short term trading profits. This course will cover all aspects of IPO investing and trading, including technical analysis, fundamental analysis, industry reinvention, new technology IPOs, and how to recognize which new technologies will create exponential growth.
The IPO Lab Class is an 8 week semester online class taught by TechniTrader. All TechniTrader Lab Classes are designed around a similar format to online classes or distance learning classes from colleges and universities. Each week, a lesson is posted or sent to registrants for this class teaching one aspect of the class subject. Some classes will have homework which will be self-graded. The class lesson includes in-depth training, explanations, details, examples, charts, diagrams, graphs and other relevant visual aids as well as a complete a thorough text on the subject for that week.
The TechniTrader Lab Classes are extremely popular and fill up quickly so register early. These classes are a "self-paced" class which allows each individual to study the lessons at their own pace and when it is convenient for them. Subscribers may take one Lab Class a semester for FREE as part of their subscription service. Subscription services are ONLY available to students who have completed the ME10 or ME10 Premier DVD Course.
This 8-week Online Lab Class includes: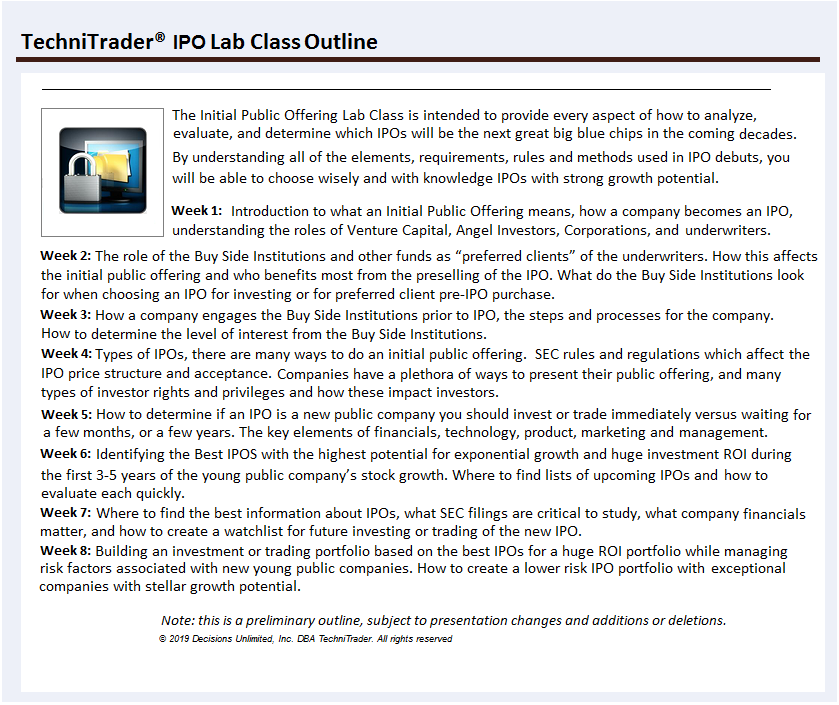 *This course is available to TechniTrader Students.
Become a TechniTader student with any complete Methodology Essentials Courses
---
Our live online and archived webinars offer a full hour of training on specific topics of interest to traders and investors. Webinars are an excellent way to experience learning from Martha Stokes, CMT and Howard Johnson, STM either live or recorded.
From time to time, Martha Stokes CMT and Howard Johnson tour major cities and teach live seminars, which provide an opportunity to talk to our Co-Founders directly, and to experience how they teach in a live environment. Seminars require pre-registration and seating is limited. Most seminars fill to over capacity, so be sure and register early.
Every week Martha Stokes CMT gives a talk about the stock market or investing on her radio show, where she discusses current topics of interest for both traders and investors. Her candid and frank explanation of the markets is a refreshing change from the norm, and provides a different perspective for listeners. Martha Stokes CMT Live Radio Shows.
Speaking Engagements
Martha Stokes, CMT is a highly sought after live presenter. She has been known to clear the floor of the Money Show when she speaks at these events, the rest of the show abandoned to hear her speak. Her speaking engagements are always filled to over capacity with standing room only due to her dynamic style and insightful topics. If you are interested in requesting Martha Stokes, CMT for a speaking engagement, please email info@technitrader.com with the details of your event to receive cost information.