Exchange-Traded Derivatives (ETD) Online Elective Course
This 8-week course starts on November 18, 2020. (11/18/2020 – 1/13/2021)
---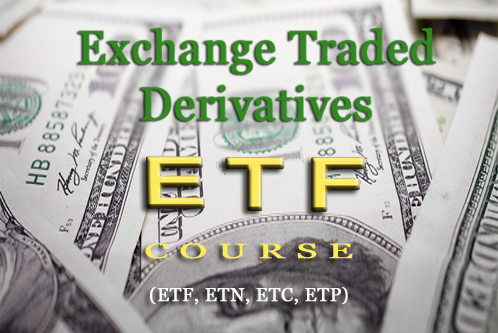 In this course, you will learn how to use Exchange-Traded Funds (ETFs) and Indexes for investing and trading to achieve higher short-term profitability and diversification of your portfolio. The course will also cover other Exchange-Traded Derivatives.
The term Exchange-Traded Derivative includes Indexes, Exchange-Traded Funds, Exchange-Traded Notes (ETNs), and other Exchange-Traded Products (ETPs), as well as Ultras, 2-3Xs, Shorts, and others under development at this time.
The ETDs are the fastest-growing trading instruments for retail traders and investors. There are exponential opportunities for trading and investing with these instruments.
The Sell Side Institutions who create these derivatives are creating new instruments every day.
This 8-week course will teach you how to use Exchange-Traded Derivatives for higher profitability for both short-term trading and long-term investing. Read the Course Outline to learn more.
---
ETD 8-Week Online Elective Course Includes:
Weekly Written Online Lessons with diagrams, charts, graphs, detailed training, and CURRENT ETD information about how these stock Exchange-Traded Products are developed, how to trade them, the risk factors, and much more.
Tools for TechniTrader Supported Charting Software Programs, such as Worden Charting Software, MetaStock, and StockCharts.com. (StockCharts.com settings can be used for manual setup in other charting programs.)
Weekly Class Notes on current activity with specific ETDs of that week.
Answers to student questions from Martha Stokes CMT.
Tests on each area of the course.
Email Support from the TechniTrader Support Staff.
Topics and Training covered in the ETD Course are explained in the ETD Course Outline. This course is only offered every other year.
Who will benefit from the ETD Online Course:
Students of TechniTrader who need an in-depth training specific to ETDs.
Long-Term Investors who own any kind of Exchange-Traded Derivative in their portfolios, Mutual Funds, or Pension Funds.
Advanced to Elite Traders who want to successfully trade Exchange-Traded Derivatives.
Please contact your Curriculum Advisor at (888) 846-5577 if you are interested in this course, but are not a TechniTrader Student before registering for this course. The Instructor, Martha Stokes CMT, reserves the right to approve traders who have not taken the Methodology Essentials Course.
Pre-Requisite: The TechniTrader Methodology Essentials Course is recommended to provide the foundational education, the skill development, understanding of technical and trading tools, and the complete TechniTrader Trading Process with Trade Management, Risk Analysis, etc.