Fast & Easy Reading of Charts with Doji Candlesticks
Decoding Charts with Doji Candlesticks
When Candlestick Charts were first introduced to the western markets, everyone using Stock Charts and Technical Analysis relied on indicators more than Bar Charts, which were the most popular charts back then. Bar Charts are much harder to read, give less visual data, and take longer to interpret. Candlestick Charts were instantly popular because they made reading price fast and simple.
In the beginning, Candlesticks were assumed to be the confirming indicator, which made pure price subordinate to indicators such as MACD and Stochastic, both very popular indicators. However, using Candlesticks as the entry signal rather than just confirming a continuation of the trend or a reversal of the trend, enables traders to use pure price as their entry and exit signal.
Spatial Pattern Recognition Skills™ are something most traders do not have, and need to develop. It takes a while to learn how to read Candlesticks as quickly and as easily as you are reading this text, but when you can do so, it opens up a world of information about why price is moving as it is and how it will move next.
During Trading Range Market Conditions, having keen Spatial Pattern Recognition Skills are imperative. Otherwise the markets seem merely volatile, unpredictable, and confusing. See chart example below for Dark Pools controlling price Doji Candlestick Pattern.
Indicator training webinar to learn more about this indicator which tracks large lots versus small-lot activity. Click HERE
Webinar teaches the 5 Essential Stock Indicators, Price vs. Quantity, and indicators for Dark Pools & High-Frequency Traders. Click HERE
Indicator training webinar to learn why volume is as important as price analysis, and why volume leads price. Learn MORE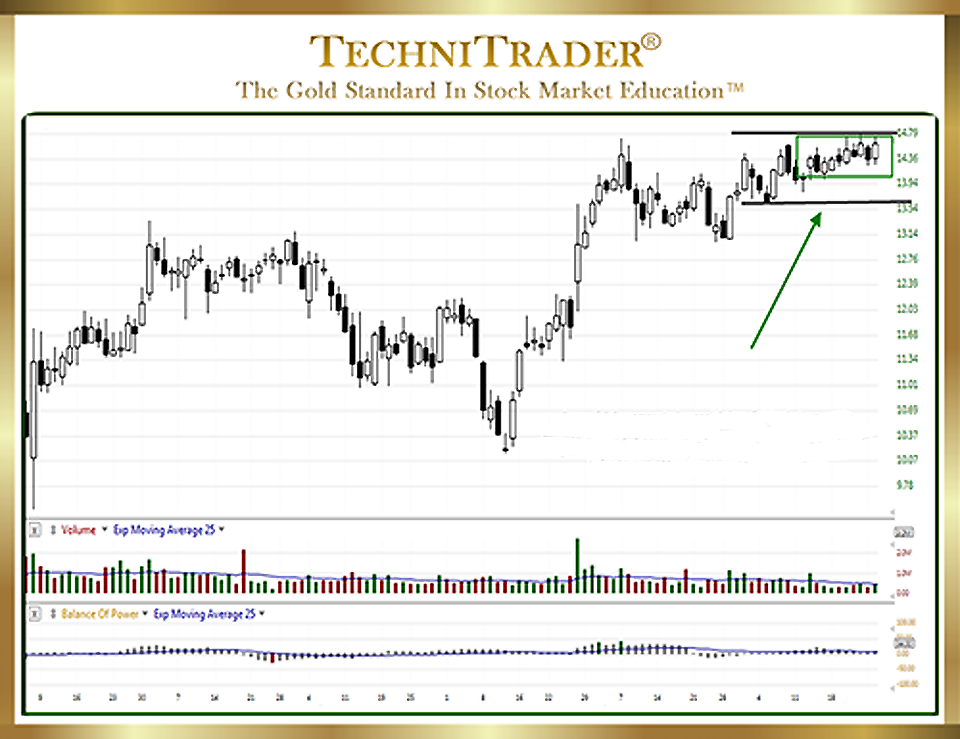 By learning Spatial Pattern Recognition Skills, you can speed up the entire analysis process, and find strong picks to trade. Everyone who uses Candlesticks knows what a Doji Candlestick is, however where it forms can reveal a great deal. Decoding Charts with Doji Candlesticks can indicate any of the following:
1. A resting day candlestick and the stock will continue moving down
2. An exhaustion pattern in which the stock will reverse
3. Can expose Dark Pools controlling price
Dark Pool Quiet Accumulation is easy to recognize in a candlestick formation, once it is understood how giant Institutions using Dark Pools buy and sell. The patterns become obvious and are instantly easily recognized. The chart example shows the tight formation of Doji Candlesticks first being white, then black, and then white again which is a Dark Pool Quiet Accumulation pattern.
Since this is also a compression consolidation of Doji Candlesticks, it is also indicating a likely Breakout pattern. The stock may either run with High Frequency Trading triggers or gap. Entering early in this tight consolidation of Doji, ensures that the trade is executed before a potential run or gap.
The more compression there is then the more velocity behind the Breakout, with the pattern definitely favoring an Upside Breakout. The way the Doji have formed in the Candlestick Chart tell the Technical Trader with strong Spatial Pattern Recognition Skills, that this is an Upside Breakout about to occur soon.
Summary
The chart example also gives other information regarding Decoding Charts with Doji Candlesticks. The stock has bottomed decisively and recently. It has no strong resistance above price. The tight consolidation of Doji was preceded by speculative trading triggered first by Professional Traders, then High Frequency Traders, followed by Smaller Funds. The stock went sideways as Professionals took profits while Smaller Funds bought. Now it is in a very tight formation. The control of price requires a very specific type of order that only Dark Pools use regularly.
Go to the TC2000 Learning Center and watch webinars on Time Segmented Volume, Balance of Power, Professional Style TC2000 Scans, and the Trade Management Planner.
Trade Wisely,
Martha Stokes CMT
TechniTrader technical analysis using a TC2000 chart, courtesy of Worden Bros.
Chartered Market Technician
Instructor & Developer of TechniTrader Stock & Option Courses
Copyright ©2017-2018 Decisions Unlimited, Inc. dba TechniTrader. All rights reserved.
TechniTrader is also a registered trademark of Decisions Unlimited, Inc.