(SAMPLE) The Trader's Inside Look™ Stock Market Report
Featuring Dark Pool Analysis
---
Forecast for upcoming Month: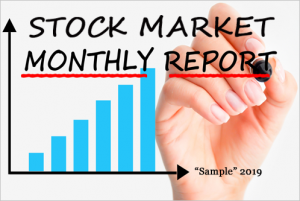 Earnings season will come mid-month. This tends to increase volatility, velocity, and momentum activity for stocks, ETFs, and indexes.
Buybacks are usually paused the week of any earnings report but will resume thereafter. Buybacks leave a distinctly different candlestick pattern than Dark Pool Buy Zones.
Dark Pools are usually very busy during non-earnings report months and are quiet and wait during earnings season.
Therefore, momentum runs or swing style runs will be predominantly dependent upon buybacks by corporations, earnings new HFT runs and gaps, and pro traders trading both good earnings and weak earnings reports, buying short term or selling short briefly. This is why the stock market tends to be more volatile during earnings season.
The Trading Month in Review:
Trading activity this month was dominated by corporate buybacks which went into full throttle during the early stages of the earnings season. Most companies were able to "meet expectations" or analysts' estimates for earnings but revenues were too often below the expected estimates.
Dark Pools were also busy, but on the opposite side of the trade. Dark Pools are already in Rotation Mode, which is a slow, steady sell within a "Sell Zone". Tracking the Dark Pool Rotation can help traders in preparation for selling short, or to see the risk of Topping Formations more clearly. Dark Pools selling in the buybacks and speculation. This is common after earnings season and before the next earnings report dates.
However, the corporate buybacks compensated for the poor revenues performances from many big blue chip companies. Buybacks continued to stabilize or move stock prices upward. Buybacks are of sufficient quantity at the end of this month to continue to influence next month's trading activity. Buybacks are a form of manipulation within the stock market. They require SEC approval, however, and the SEC and FINRA monitor this activity.
---
Stock Chart of the Month:
NYSE: BA, Boeing Corporation, Aerospace and Defense Industry, Industrials Sector, Dow component.
BA had an HFT Gap up on earnings news which moved the price into the high of the year-long trading range of 2018. The gap held and the stock moved up above the trading rang resistance. The gains after the HFT gap are due to buybacks by Boeing to increase their EPS for dividends, smaller funds managers buying BA on the earnings news, and some retail traders and technical traders buying BA on the news. Current volume is way below average.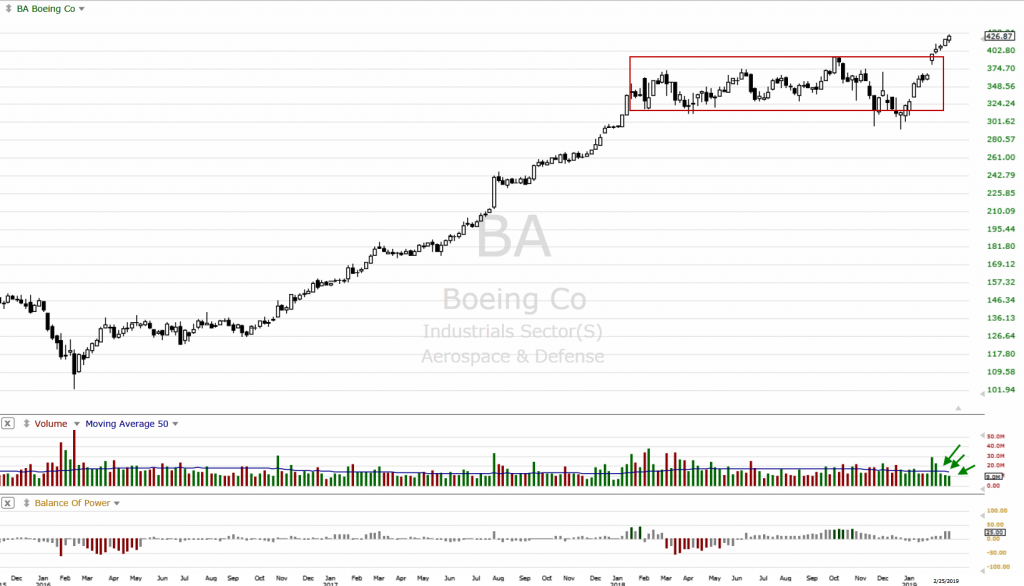 ---
Features ETF of the Month:
ETFs are gaining popularity in the retail trading community. One of the most popular ETNs for professionals is the TVIX which is a 2x VIX Short Term ETN. An ETN in this instance doesn't have a Trust account holding assets.  TVIX is popular for professional proprietary desk traders and floor traders to manage risk, hedge against sudden market shifts, and mitigate downside price action in panic market situations.
This is an INVERSE ETF which means it moves in the opposing direction of the VIX. It also moves 2 times the VIX. The chart below is a Weekly Chart and the green BOP indicates plenty of intermittent buying of this ETN.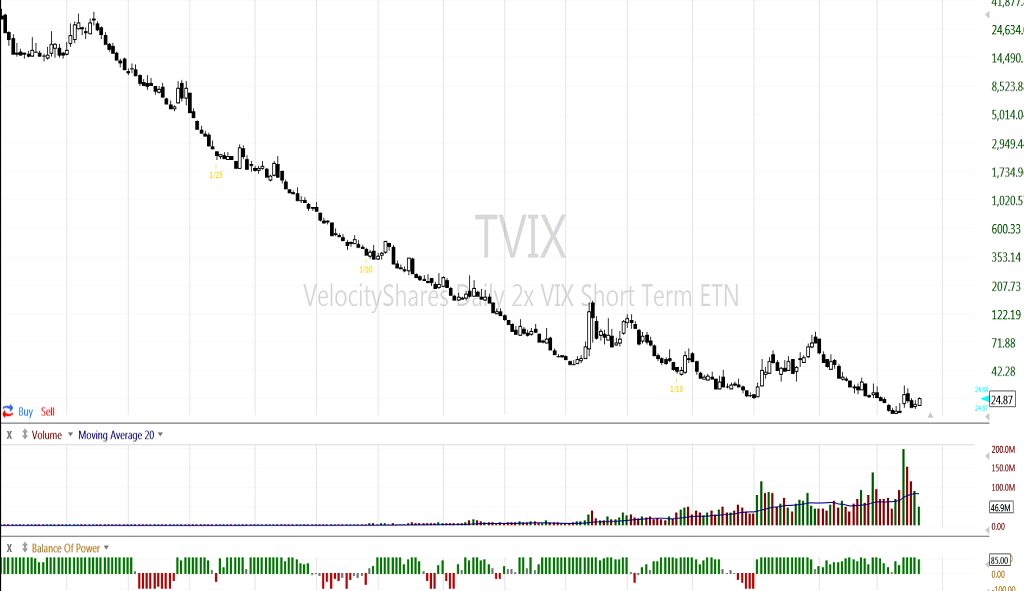 ---
Featured Industry Chart:
iX1840 Biotechnology Daily Chart. Biotechnology as an Industry had a sudden short term correction at the end of 2018. It has rebounded to complete a V short term bottom formation on increasing volume. The daily chart shows a sideways pattern at the completion level of the V neck and a gap up. The gap is a breakaway gap and is less likely to fill, however breakaways sometimes fill. The Biotechnology industry is expected to have a stronger year overall. It is the largest of all industries in the US at this time with over 430 stocks as components.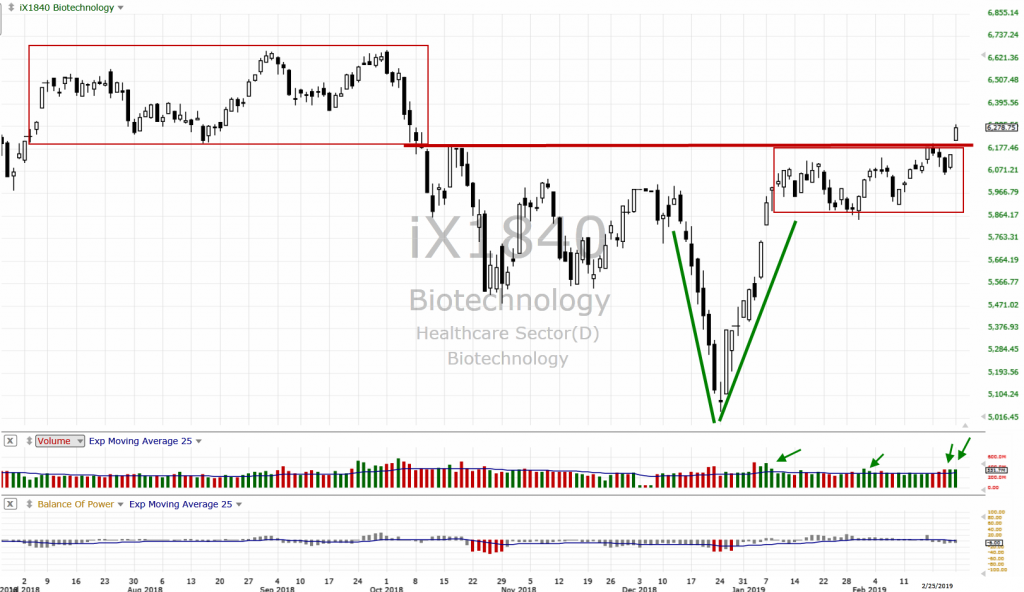 ---
Trading Style of the Month:
Chart patterns are most suitable for swing style trading without momentum. Few stocks are moving with strong momentum or velocity price and volume patterns. Position trading platforms are rare as few intermediate to long term bottoms have completed during this month.
Once Dark Pools begin serious quiet accumulation, then platforms should develop for high-income position trading. Swing traders need to be careful to avoid high-risk entries that can whipsaw easily. Swing Traders should trade with the Professional Traders rather than chasing HFT action.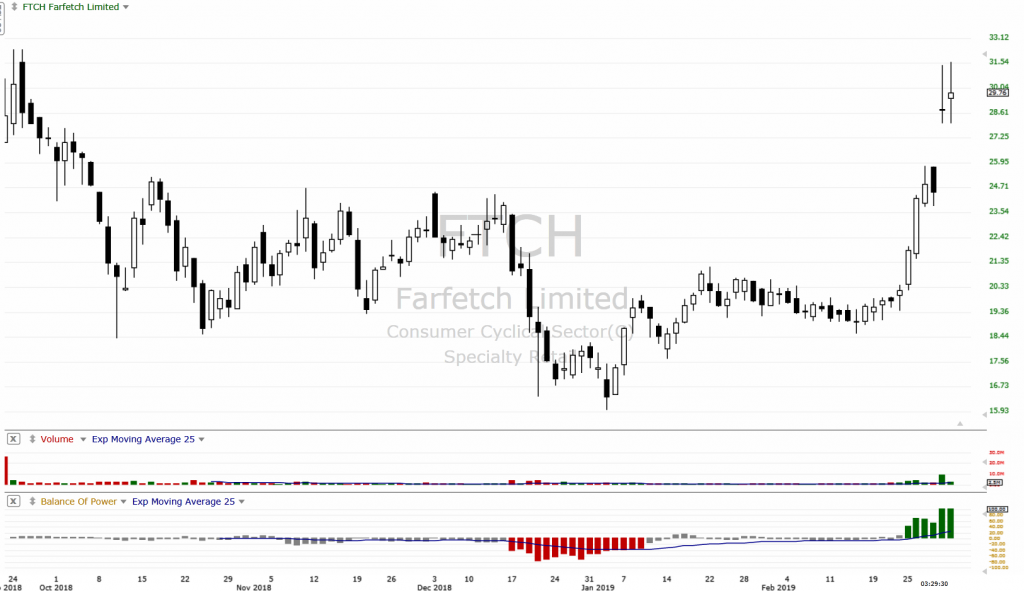 ---
Trading Tool of the Month:
Volume Oscillators are ideal for the trading range conditions and bottom formations that are prevalent in charts at this time. Volume Oscillators can be adjusted to the trading style of choice and adapted to the changing market conditions. Volume Oscillators are an important technical tool for the current market conditions.
Volume oscillators are interpreted differently than price oscillators. The center line oscillation area defines the divergence and convergence as well as accumulation, distribution, rotation, and extreme patterns for these indicators.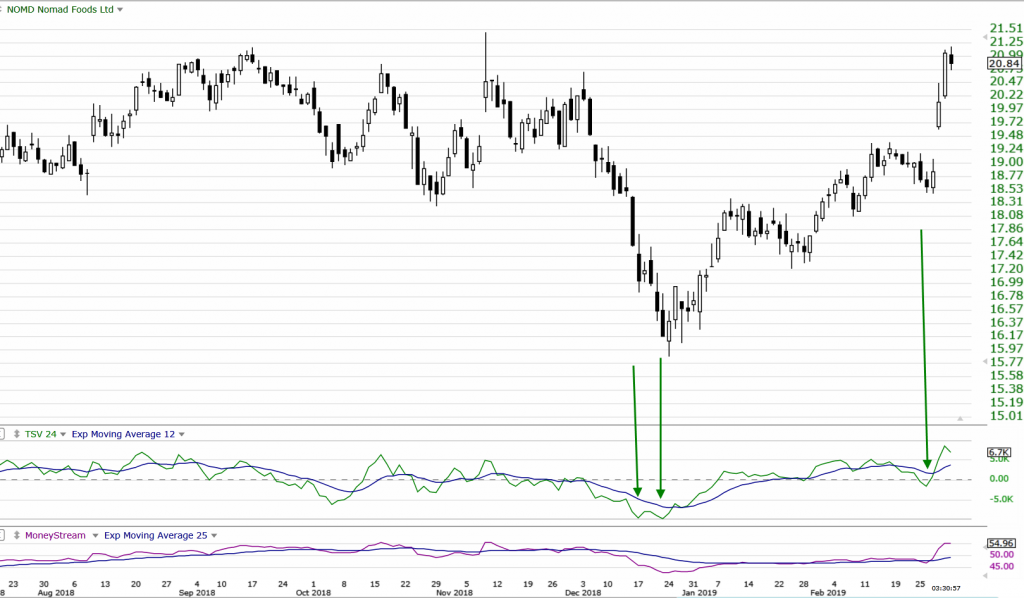 ---
Stock Trading Tip of the Month:
Short Term bottoms provide the best opportunity for short-term momentum runs at this time. HFTs trigger automatically on liquidity draw out of short-term bottoms. To take advantage of an HFT gap or run, the stock trade must be done prior to an anticipated HFT gap or sudden run up.
This requires learning Relational Technical Analysis to recognize the liquidity draw activity, pro trader footprints and the hidden accumulation of Dark Pools. Hidden accumulation is possible due to the new professional order types that strike on the penny spread. Routing of the orders also contributes to these orders hidden activity.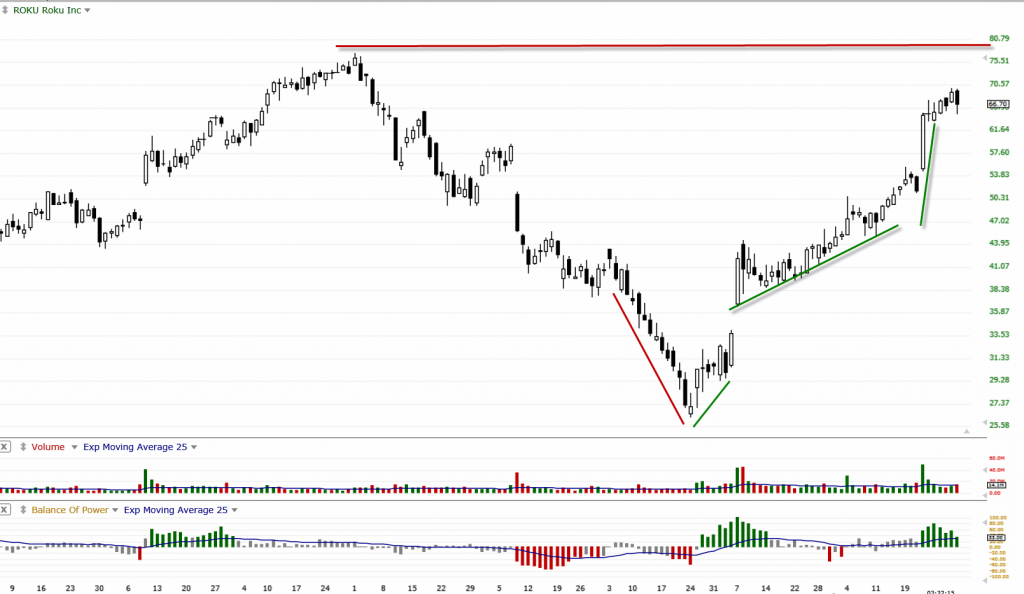 ---
Financial Markets:
Commodity: prices remain stable with oil within a long-term, wide trading range that has existed since 2015. The range is approximately 50 points wide. Changes to consumer demand and global supply are likely to continued this range for some time. The Commodity Oil and the Energy Industry are undergoing massive changes to global supply and demand. Disruptive and displacement technologies are beginning to impact this commodity and the energy industry. The demand for oil is inevitable as the dominant economies of the world continue to shift to alternative energy sources. Solar Power is becoming the most popular and widely used alternative energy source. This will displace oil as a heating and vehicle energy in the next decade and beyond.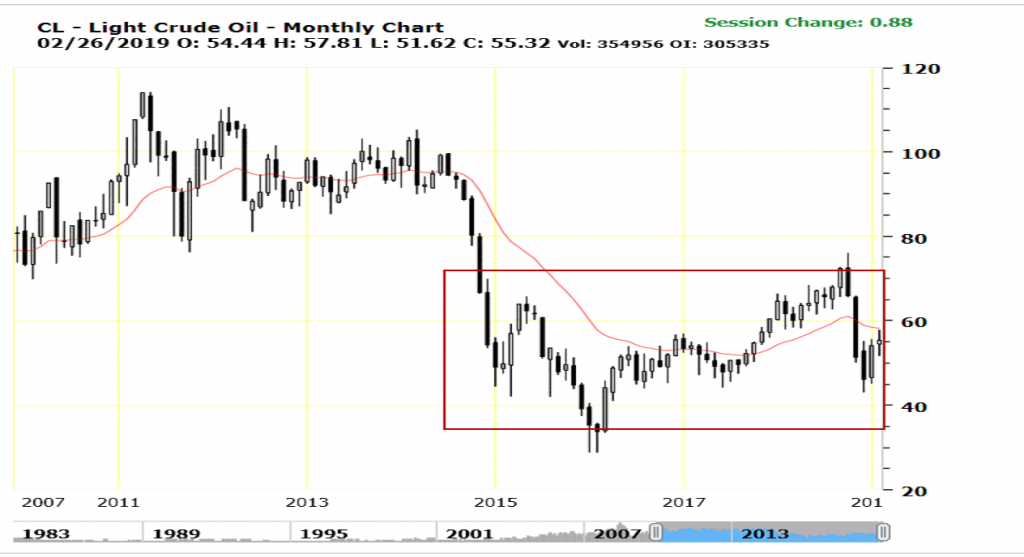 Bonds: continue to see heavier than normal flow of funds into taxable bonds.  Corporate debt continues to rise in leveraged bonds and ETNs.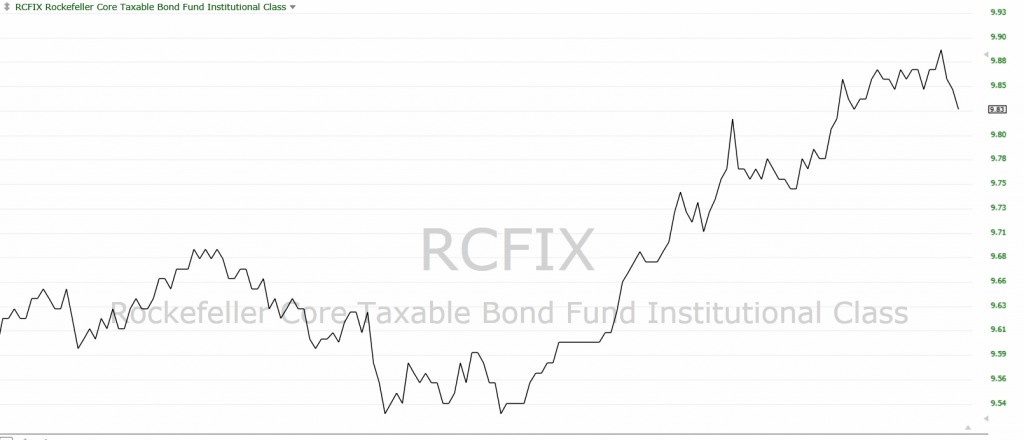 The US Dollar is in a trading range at the high end but below the $100 cash settlement value level. This stabilizes the dollar against other currencies and provides a reasonable global balance for corporations who export and import. The US dollar tends to rise with interest rates and other factors. A high dollar value makes US exports more expensive globally. US importers benefit as they can buy product from other countries at a lower cost. Interest rates, the currency markets, and the credit markets all affect the USD value.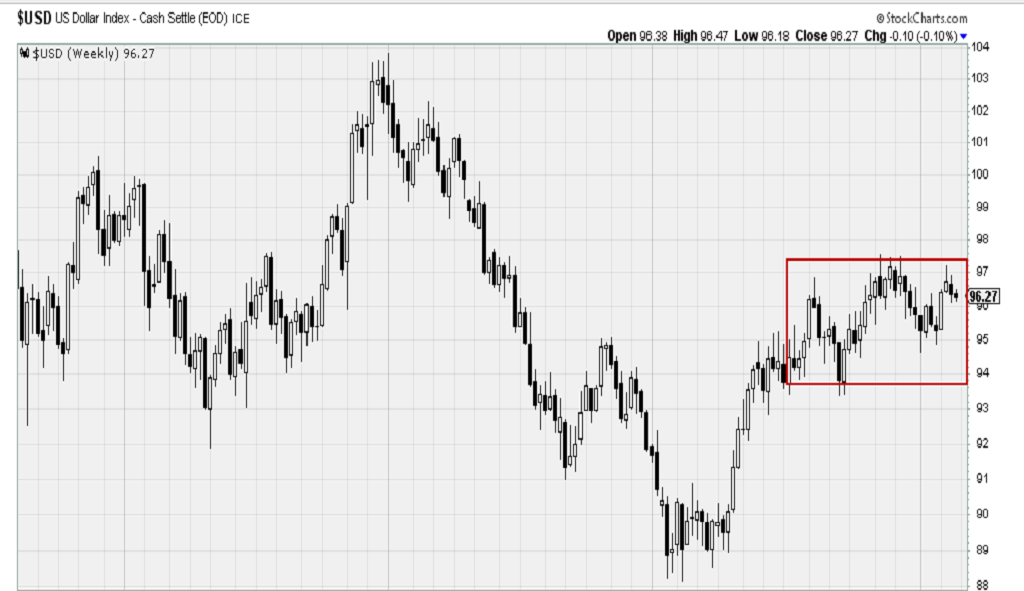 ---
Stock Market Index Analysis:
The Dow Jones Industrial Average's 30 components represent 9 of the 11 US Sectors: 1 Communication Services, 1 Basic Materials, 4 Consumer Cyclical, 4 Consumer Defensive, 2 Energy (oil only), 5 Financial, 4 Healthcare, 4 Industrials, and 5 Technology.  Excluded from the Dow 30 due to lack of representation are these sectors:  Utilities, Real Estate. Financial and Technology Sectors are over-represented.
This is a critical data analysis to understand the dynamics of the DJIA 30 averaging algorithm and how it functions to create the Dow 30 index chart. Currently the trend is bending slightly into a curve. This often, not always, precedes a sideways action. The Dow 30 is near its monthly highs of the downtrend in 2018. Large Lot indicators confirm a risk of a shift to sideways.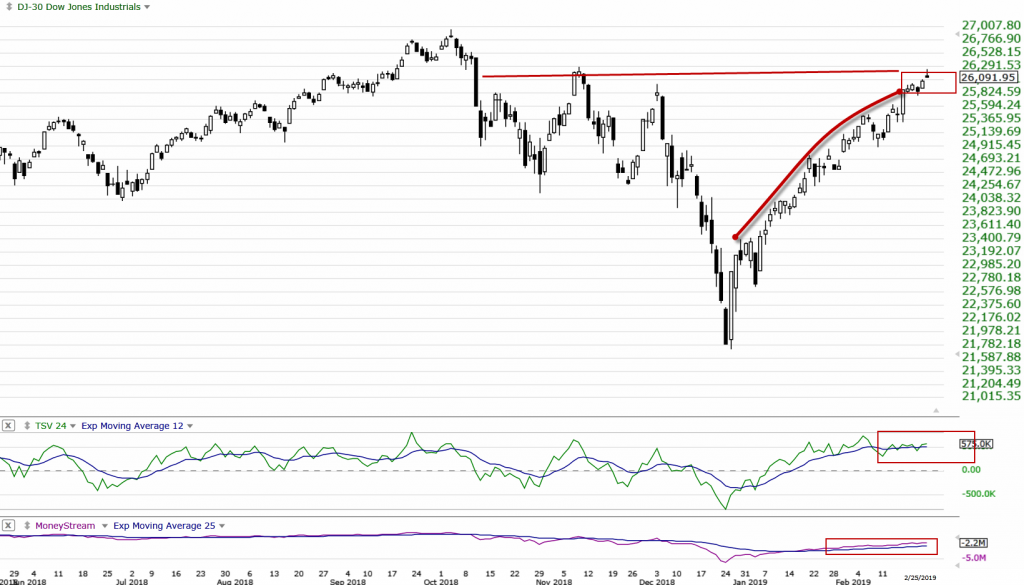 ---
Professional-Side Activity:
Most of this month, the Dark Pool activity has been lower than average. Professional Traders and Proprietary Trading activity has been above average. Short Term trading of Mutual Funds has increased, impacting Put-Call Ratios for Options and ETF trading activity. Dark Pools' footprints on the charts are evident in bottoming formations where the stock has declined in excess of 50% or higher.
Most of these bottoms are developing slowly and most are incomplete at the end of this month. Buybacks managed by the Sell Side Institutions and Financial companies are more aggressive than last year. Buybacks were also prevalent during the earnings season at the time the Federal Government was Shut Down. Buybacks are the primary catalyst for upward action in high-profile stocks popular among retail and technical traders.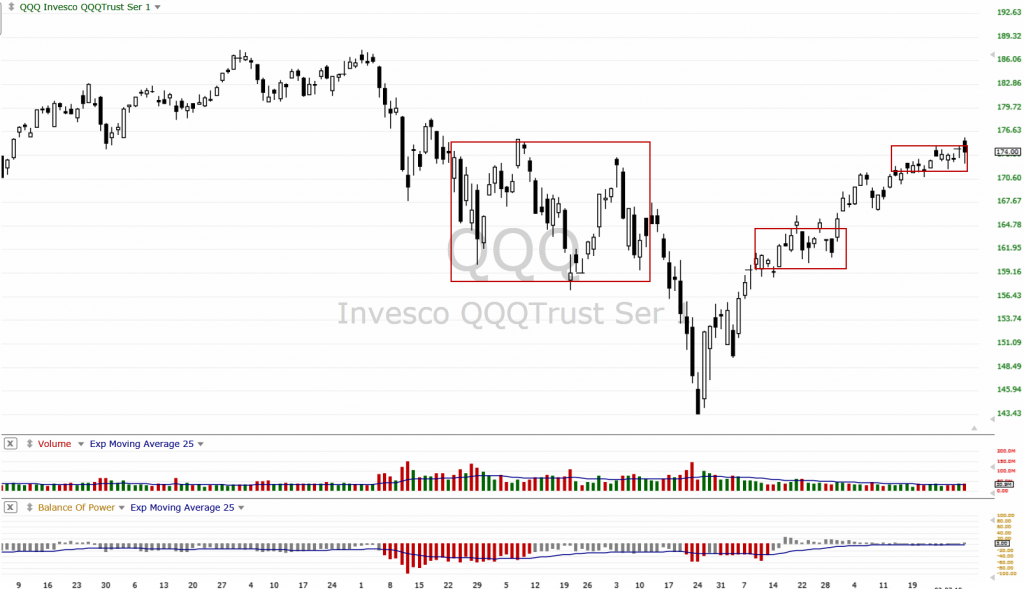 ---
Newsworthy:
Although the intent of giving tax cuts to corporations was to encourage companies to hire more employees and to improve the infrastructure of the corporation, the government had no viable means of enforcing such investing and hiring activity. The corporations have, instead, used the golden parachute tax cuts to buyback billions of shares of their own company stock. What happens to this stock they buy?
It is returned to the internal shares held by the corporation. This skews the Percentage of Shares Held by Institutions and lowers the outstanding shares available to the investing public. Eventually, this is a risk factor for investors if this trend continues.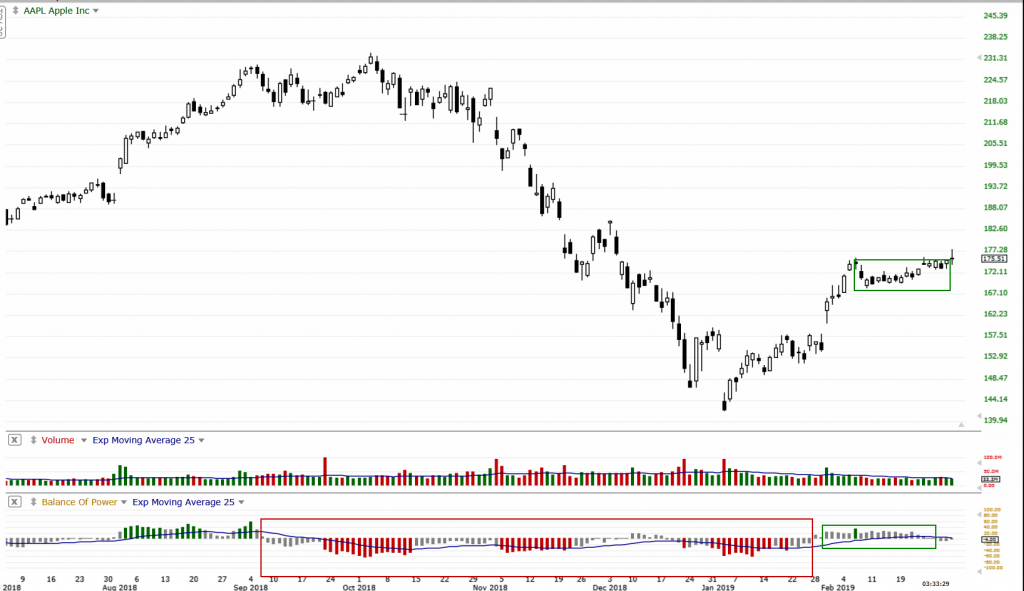 ---
Subscribe to

"The

Trader's Inside

Look" Stock Market Report Today
---
Martha Stokes CMT.
Chartered Market Technician
Master Rated Technical Analyst: Decisions Unlimited, Inc.
Instructor & Developer of TechniTrader Stock Market Courses
Member of CMT Association
Author of "Cycle Evolution Theory" & "Relational Technical Analysis"
---