Methodology Essentials Standard DVD Course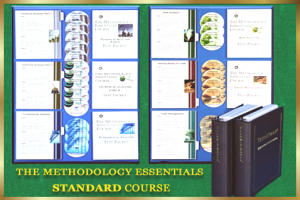 Enrollment: If you are a beginner to novice level trader, this course is designed for you.
What to do next:
1. Watch the Peek Inside Video for this course.
2. Read the Course Syllabus.
3. Call us to enroll or if you have questions:  888-846-5577
The Course has 2 PARTS:
Part One: Self-paced DVD Education.
Part Two: Implementation: Hands-on Training.
Benefits of the Methodology Essentials DVD course:
Comprehensive, covering every aspect of how to trade stocks.
 Student Support package  included.
Complete Set of Trading Tools  included.
Modular Semester-style for faster, easier learning experience.
Self-graded tests to help you retain what you have learned.
Guidance during your Simulator Trading to practice what you have learned.
Unlimited questions you can ask your guidance and support team.
Online Student Wiki files with additional training.
Daily Market Educator email training with additional training lessons.
Mentoring Sessions to help beginners and novice traders.
Each course manual along with corresponding TechniTrader DVDS are designed to maximize your learning experience, as there are numerous detailed explanations and examples throughout each entire course.
The TechniTrader Methodology Essentials DVD Course is the only course that gives you a comprehensive, in-depth foundation for trading stocks.
The Methodology Essentials Course is our most popular stock trading course and teaches you an easy to use TRADING PROCESS.
Answers to Your Questions:

888-846-5577
Student Review: Thank You Martha! I could not have done it without you and your team's guidance. Mele has been a great source of support and help as well! At first I did not believe having a 75% success rate was possible, however if you stick to it and go back and study and re-study and really apply yourself you can come out on the other side! I'll be taking the options course next, just so I can mix them in to my trading when the market condition allows. Having taken other courses and subscriptions before coming to TechniTrader, I do believe your depth of knowledge and understanding is unparalleled. The best part for me is to finally have some solid understanding of what is happening and why instead of feeling dumb founded and over whelmed and confused. I have not found that anywhere else.– Pomy B.
This course is in TWO PARTS.
The video training which you take at your own pace, in the comfort of your own home, when you have time. This gives you the knowledge base on which to build skills, understand how to properly use the trading tools we provide for you as part of the course, and begin developing a trading process customized to your needs and goals.
The Implementation Phase with hands-on training. Part 2 of the course is working to develop your skills so that as you practice on a simulator, you are building a strong Spatial Pattern Recognition Skill set, are able to use the charting, risk analysis, and trade management tools with ease, and you have our outstanding support staff available to answer any question along the way.
The Methodology Course is the only comprehensive stock market course that includes student support, guidance, and mentoring sessions. It comes with a complete Tools Package for your trading style and needs.
---
Learn a trading style that yields stronger profits and that doesn't take up all your time:
The Methodology Essentials  Course can be tailored to fit exactly your needs for trading or investing in the stock market, whether short-term, long-term, part-time, full-time, or through options or ETFs.
TechniTrader DVD Courses are a complete training program and teach everything you need to know about trading stocks.
Click to Read Reviews of the ME10 Methodology Essentials Course

Methodology Essentials 10 Course (ME10)

---

Good Morning,

Wow, I have never learned so much so fast. This course (TechniTrader Methodology Essentials Standard Course) is like taking a drink from a fire hose !!!

Especially yesterday's Daily Market Educator (Student Support Publication). I cannot believe how little I know.

You guys (TechniTrader Staff) are wonderful. I would like to give all of you a very big hug.

Again, a thousand Thank You's.

– Allen J.

I started the (TechniTrader Methodology Essentials Standard Course) ME10 about 10 days ago, and wanted to let you know how empowered I feel by the content. I have been active in trading for about 2 years, and that experience makes this much more understandable. I have rocked through the Technical Analysis sections, and will probably make my way through Fundamental Analysis this weekend. In other words, I am excited!

So glad to have found you (TechniTrader). One of your students is a powerful advocate of Martha on a trading site to which I subscribe, and I have read her (Martha Stokes CMT) blogs but until I thought to myself, "I am just not getting any more reliable in my results," I wasn't ready for the real training.

– Cathy H.

Hi Mele,

Thanks for the clarifications as your answers are very helpful.

Again, I have really enjoyed the (TechniTrader Methodology Essentials Standard Course) ME 10 course and all of the TechniTrader material.

Your material was the missing piece of the puzzle that I needed for my trading plan/system. My trading is tighter and much more profitable now thanks to you guys.

Also the TC2000 (charting software) is really a nice, robust system and I don't know how I ever got along without it.

Warmest Regards,

– Ed B.

Martha,

My granddaughter asked me if I could tell her about the stock market! Her boyfriend likes stocks, whatever that means at this age. With what I have done in the past and learned so far with the (Methodology Essentials Standard Course) ME course, I'm going to share with her my story of how I got interested in stocks but really didn't know what was going on.

I'm sure glad I enrolled in this course, and plan to be with you for a long time. This next week the other grand kids will be joining us and will be sitting in our conversation.

Thanks for taking this task of educating on. It has been an eye opener! And I'm enjoying it immensely.

– Curt H.

Dear Cheryl,

Today I've received the Certificate of Completion from TechniTrader. Thank you very much for it. It was quite exciting moment when I opened the TechniTrader envelope this afternoon.

My goal was to increase my knowledge about the markets, particularly about the Stock Market. The (Methodology Essentials Standard Course) ME10 course broadened my knowledge about the Stock Market very much. It did a very good job. Thank you.

Best regards,

Jaroslaw M.

After reading the Daily Market Educator under heading Common Mistakes, I am compelled to share "the other side of the story" about learning from your mistakes. To Martha, Howard, Mele and other staff members at TechniTrader. This TechniTrader (Methodology Essentials Standard Course) course has helped me in ways that are hard to measure, so I will try my best to communicate how much I appreciate the training/education that I have received.

Prior to becoming a Student at TechniTrader, my stock market mistakes were serious and monetary losses were far greater than any meager earnings.

The (Methodology Essentials Standard Course) ME10 Course and the continued education with TechniTrader has been eye opening. There were multiple areas of trading I desired to understand as well as how to study candlesticks, different chart patterns, and the crucial indicators that were necessary to use. It has been enjoyable adding to my knowledge base, building upon it, and expanding it. As I do, I become a better trader with better results.

I chose Swing Trading as my specialty; my personal results in the stock market have yielded nice net gains with the last 10 of my 11 trades thus far this year closing successfully. I'm comfortable whether I go long or go short, and I trust completely what I have been taught and continue to learn through the educational experience I still enjoy. One of the greatest lessons I have learned to value is the virtue of patience. Yes lessons in patience, practice, adaptability… just to name a few things along with all the technical education.

So thank you, especially to Martha and Howard, for sharing your expertise and vast knowledge with us. I'm not frustrated anymore when it comes to market decisions as I was a couple of years ago, I'm just very grateful for the proper and kind instruction.

Most sincerely,

– Laurie V.P.

This (Methodology Essentials Standard Course ME10) is without a doubt the best educational course I have taken on trading. It has been organized so well and easy to follow.

– Curt H.

I want to thank you for the wonderful training you have given me. While I paid (and am still paying) a significant amount for it, the results have shown it is well worth it – in fact, a bargain. I have been actively trading for about 4 months now and just made my most significant gain yet. It was a DOOZIE! I realize, as you have oft repeated, it is not the stock or my move, but the market and timing. In addition, by following your training, I have had very few losses and those have been very minimal. A lot of my friends are so afraid of the stock market – they simply don't understand it. And of course, I tell them about your training.

This particular stock was on one of my watchlists and the day before earnings release, I bought 500 shares with the simulator. The next day it gapped up significantly. I still saw potential after the gap and bought 200 shares with one of my retirement accounts. Today, after only a few days of being in the trade, I sold SAM making 14 plus points on a fairly pricey (to me) stock. I decided to stay in on the simulator and set my stops for swing style and will see where it rides (If I were to sell today I would have realized 27 points in a week!). We'll see where this thing goes. But, now to look for other similar opportunities. They are there. I just need to find them and patiently wait for the right time.

Again, thank you so much for the GREAT education – from someone who knew practically nothing about the stock market 8 months ago before I signed up for the ME10 Course! THANK YOU, THANK YOU, THANK YOU!

All the best,

– Mike N.

Thank You Martha! I could not have done it without you and your team's guidance. Mele has been a great source of support and help as well!

At first I did not believe having a 75% success rate was possible, however if you stick to it and go back and study and re-study and really apply yourself you can come out on the other side! I'll be taking the options course next, just so I can mix them in to my trading when the market condition allows.

Having taken other courses and subscriptions before coming to TechniTrader, I do believe your depth of knowledge and understanding is unparalleled. The best part for me is to finally have some solid understanding of what is happening and why instead of feeling dumb founded and over whelmed and confused. I have not found that anywhere else.

– Pomy B.

My trading is going great. Your course was really really helpful, I am very happy I've taken it! I've been trading for about 4-6 months now and I've been quite successful. I am very careful with stocks I pick, and by placing stop loss orders I managed to prevent major losses. I really appreciate your scans; they helped me to find some very good picks! I've already doubled my original investment! I am very happy.

-Gabriela J.

This course is wonderful. It has dispelled confusion and made the fundamentals clear, logical and doable. This course is couched in common sense. I knew this information had to exist somewhere! But after 5 years with my other education company, I've yet to hear mention of this essential foundation knowledge.

Thank you.

– Rick S.

I'd like to inform you that I recently had my first two successful trades. These are my first trades since I took the course. I made a 30% or 10 point gain on the first with BNS, and a 20% or 6 point gain on the second with TCK.B. I was stopped out of my second trade and I learnt a lot from those two trades. I can't tell you how many trades that would have went the wrong way if I hadn't practiced the control entry method. Thanks you for your guidance.

– Paul T.

I was frustrated for 15 months and a broken newbie until I became a TechniTrader student since the end of April 2013. I am thrilled and thankful that my friend referred me to Martha after he himself has achieved an annual return of +35% as a newbie 2 years ago. I have now completed numerous courses and my level of knowledge and skills has improved drastically. My account has stopped bleeding and now is growing with consistency.

I am extremely excited!!! I strongly recommend anyone who wants to trade successfully must start with Martha. She is the only person who can give us the full spectrum of knowledge in the most learnable, simplest form, yet highly detailed and insightful like no one else…

Great thanks to Martha and Howard and the great support team of TechniTrader for helping me to achieve my goal!!!!!!

– Monique C.

Martha,
Thank you so much for your thoughtful response to my email. I couldn't agree with your perspective more. The way you put it could possibly revolutionize the way I do business. Marketing experts are stressing to me that we need to be distinctive in the marketplace. This approach could work. Thank you for putting together a series of courses that allows us to progress. I have been shocked that in this industry we (Financial Planners) have to seek out where to find the correct knowledge or follow the pack. It is refreshing to not have to get a bunch of info and then figure out by trial and error if it was accurate. I will continue to refer you to my colleagues and hope they take the advice.

Again, I appreciate your time, I know it is valuable.

– David C.

I am so appreciative of TechniTrader with Martha and Howard's incredibly organized and thorough approach. For the last year I have been gathering information and self-teaching which is as dangerous as self-medicating. I was at the point that the more I learned, the more confused I was becoming. I created my own charts with a dozens of indicators (in beautiful colors I must add) and would just stare blankly at them. It was just by fluke that a new search engine appeared on my windows live account "Bing" and ping, your site popped up. It really scares me to think how naive and ill-equipped I was and that I most certainly would have had some nasty lessons.

Thanks so much for all your help in getting me on track.

Best Regards,

– Gillian C.

You know what was such a good feeling? While I was listening to the questions at the webinar, I realized how much more I know about market conditions and certain indicators, compared to many others that were listening in. Really important stuff too! I know I am still a baby at all this, but it was a real confidence booster! I feel so blessed to be a TechniTrader student. I'm so glad I didn't go with another company and learn "average" information.

– Joy D

I want to thank you for the wonderful training you have given me. While I paid (and am still paying) a significant amount for it, the results have shown it is well worth it – in fact, a bargain. I have been actively trading for about 4 months now and just made my most significant gain yet. It was a DOOZIE! I realize, as you have oft repeated, it is not the stock or my move, but the market and timing. In addition, by following your training, I have had very few losses and those have been very minimal. A lot of my friends are so afraid of the stock market – they simply don't understand it. And of course, I tell them about your training.

This particular stock was on one of my watchlists and the day before earnings release, I bought 500 shares with the simulator. The next day it gapped up significantly. I still saw potential after the gap and bought 200 shares with one of my retirement accounts. Today, after only a few days of being in the trade, I sold SAM making 14 plus points on a fairly pricey (to me) stock. I decided to stay in on the simulator and set my stops for swing style and will see where it rides (If I were to sell today I would have realized 27 points in a week!). We'll see where this thing goes. But, now to look for other similar opportunities. They are there. I just need to find them and patiently wait for the right time.

Again, thank you so much for the GREAT education – from someone who knew practically nothing about the stock market 8 months ago before I signed up for the ME10 Course! THANK YOU, THANK YOU, THANK YOU!

All the best,