Learn how to read StockCharts.com Indicators for analysis of stocks like a pro, with TechniTrader Training.
TechniTrader has harnessed the charting power of StockCharts.com to give our students leading indicator combinations for stock chart analysis. We've chosen the best of the StockCharts.com indicators to create preset ChartStyles that we share through StockCharts.com ChartLists, exclusively with students who have taken our courses. We use these indicators in a unique way to uncover the activity of Institutional Investors who use Dark Pools as well as Professional Traders, High Frequency Trading, and more.
Sign up or log in to watch a webinar with Martha Stokes CMT using StockCharts.com Indicators to reveal Dark Pool Buy Zones™: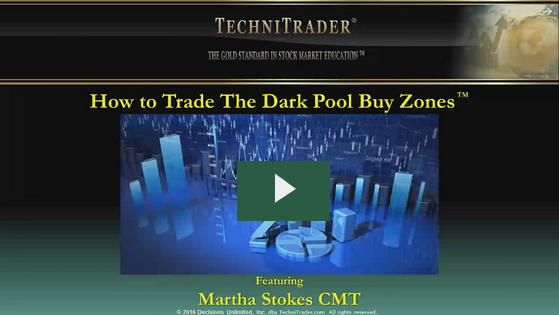 TechniTrader Tools for StockCharts.com include ChartStyles already set up for you with leading indicator combinations on various time frames for each trading style.
With our training, you will learn which indicators to use when, and at which period settings and time frames.
With your indicators already set up in StockCharts.com ChartStyles, all you have to do is start using them to study stocks and begin the required practice. All TechniTrader Tools for StockCharts.com come with instructions that are written & provided through video.
Support for TechniTrader Tools is in-depth and one-on-one when required. Plus, you'll never lose our support once you've taken a complete trading course.
Chart Templates are customized by TechniTrader with leading StockCharts.com indicators for all complete trading courses.
♦  Indicators and subindicators customized for swing trading, day trading, position trading and long term.
♦  Hybrid Indicators for tracking Professional traders, High Frequency Trading, the largest institutions who use Dark Pools…
♦  Leading Indicators to aid in identifying momentum potential.
♦  Trend Indicators for cycle analysis.