Stock Market DVD Course for Beginners
Complete Training Course for Trading & Investing
The Methodology Essentials Standard Course is for new investors, and beginning to novice traders. It is a comprehensive, in-depth complete training for trading and investing in stocks or options.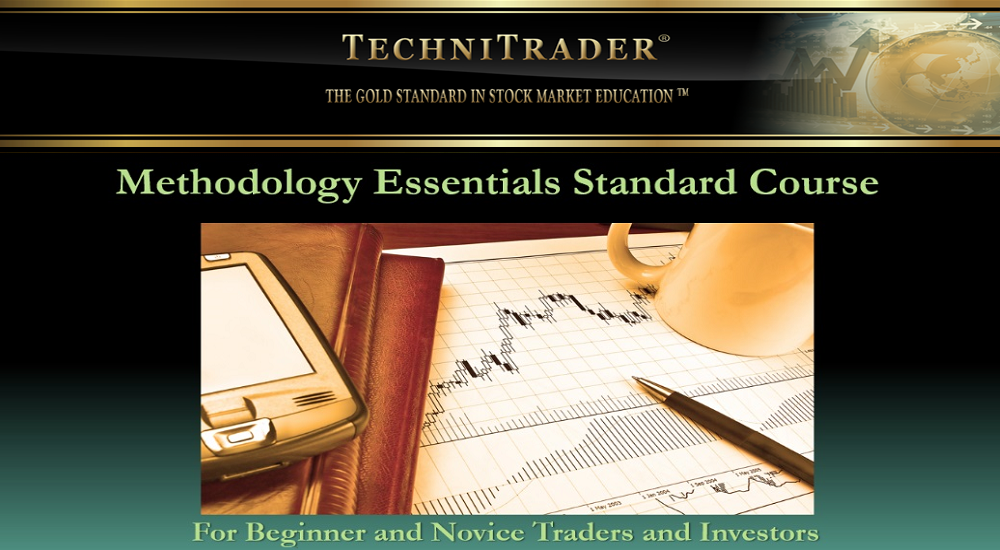 There are 2 parts to the Methodology Essentials Standard Course:
Watch 12 Beginner Lessons to learn the basics, for New Investors and Beginning Traders. Start HERE
Learn how to find stocks to trade, how to choose most profitable stock, and identify risk of the trade. Begin HERE
Candlestick Patterns Webinar
Learn which patterns work all the time, how many patterns you really need to learn. Click HERE
Part 1: The Learning Phase where the student studies the DVDs with the manual study guide. This course contains 23 DVDs with 8 Modules. Each Module has work sheets, tests, as well as email and phone support.
Part 2: The Implementation Phase of the course is the Online Training, continuing education, and the New Student Support, Guidance, and Mentoring Package along with a complete set of Tools for the Standard Course. The support includes personalized, customization of the student's trading tools, scans, and trading style. Students receive email, phone, and live mentoring support throughout their training.
This course contains the following:
Module 1: Technical Analysis Part 1.
Module 2: Technical Analysis Part 2.
Module 3: Fundamental Analysis with charts.
Module 4: Risk and Trade Analysis for Swing, Position, and Day Trading.
Module 5: Trade Management.
Module 6: Getting Ready to Trade.
Module 7: Let's Start Trading.
Module 8: Trading Tools and Support Package, Online Lessons, Virtual Training, and Mentoring.
Summary
The Methodology Essentials Standard Course is the only course of its kind anywhere. It provides a complete trading process for trading and investing in stocks.
Discover the excellence of TechniTrader education. Go to the TechniTrader Learning Center and watch a training webinar for experienced traders.
There are Libraries with Training Webinars for TC2000 Users, StockCharts.com Users, and MetaStock Users.
Trade Wisely,
Martha Stokes CMT
Chartered Market Technician
Instructor & Developer of TechniTrader Stock & Option Courses
Copyright ©2017–2021 Decisions Unlimited, Inc. dba TechniTrader. All rights reserved.
TechniTrader is also a registered trademark of Decisions Unlimited, Inc.
TechniTrader is the Gold Standard in Stock Market Education™