Swing Trading Training Video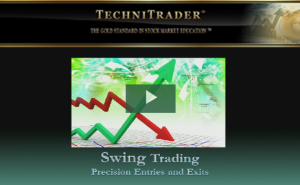 Watch Webinar Now. Learn easy steps for swing trading stocks.
Swing Trading Essentials:
Hold Time: 1-10 days, or intra-day day trading
Market Analysis, Technical Skill Level: Novice to Expert
Fundamental Analysis: No. Except for earnings strategies
Risk Tolerance: Low to Moderate
Capital Base: At least $25,000 is ideal, but less can work with strict rules. Or use Options for Swing Trading
Time Commitment: Up to 4 hours per trading day. Approximately 10-20 hours per week.
Temperament: Confident and decisive, enjoys fast-paced trading but does not want to sit in front of the computer all day.
For Swing Trading, you need to learn:
Market Condition Analysis
Precision entries and exits
How to use leading indicators to enter before price moves.
Spatial Pattern Recognition Skills™
Swing Trading requires the ability to distinguish between standard daily runs, momentum runs, velocity runs, or volatility.
You need to select swing style stocks based upon the type of run, run gain potential, time it will take that stock to run, and the exit point before you enter the trade.
Using indicators instead of candlesticks with confirming indicators increases the risk of swing whipsaw trades that result on chronic small losses.
You need to learn how to avoid whipsaw action by learning Spatial Pattern Recognition Skills, which are only taught at TechniTrader.
Watch the Webinar now and start making your swing trading more profitable, fun, and begin your path to a career as a swing trader.
Stock technical analysis charts are a key component of trading or investing in the stock market with consistent success.
With our trading courses, you learn a complete trading process built on an understanding of how the modern stock market works and sound trading principles to help you achieve your goals.
Contact a Curriculum Advisor:
888-846-5577