Watch Webinar – Beginners: 5 Steps to Stock Trading Success
Have you ever wished you could watch over the shoulder of a Professional to learn how they trade stocks? Now is your chance to learn in a live, hands-on training session with Martha Stokes CMT, one of the most prestigious educators of stock trading.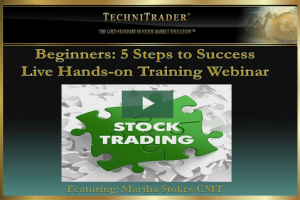 You will learn a simple, easy-to-use trading process that starts with a fast, reliable way to find a small group of profitable stocks to trade.
Then, you will learn how to quickly analyze those few stocks to pick the best stock with the highest profit potential and lowest risk.
You will learn entry candlestick signals, indicator analysis for tracking Dark Pools and pro traders, how to put on the trade, how to use trailing profit stops, and when to exit the trade and take your earned profits.
You will learn more in this one hour of training than in an entire day at a weekend seminar. Beginners who have taken Martha's live hands-on training before say it is like "being hit with a fire hose of information." No other stock trading teacher packs so much critical information into one hour.
You will be actively participating while Martha selects a stock to trade, you will study with her as she analyzes that stock for entry, and you will go through the management of the trade with her during the hold time of that stock. This training is invaluable to beginners as it streamlines the process of finding and trading stocks by eliminating the guesswork and uncertainty. You will go away from this training with a totally new understanding of how to choose the best stocks to trade. If you are serious about becoming a successful stock trader, this training is for you.
Contact a Curriculum Advisor:
888-846-5577