Specialize in Swing Trading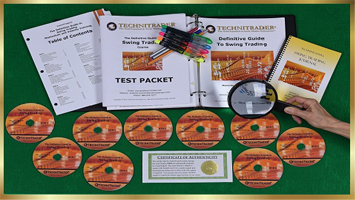 Enrollment: If you like a fast-paced trade with momentum runs, then this course is for you. What to do next:
1. Watch the Peek Inside Video.
2. Read the Course Syllabus.
3. Call us to enroll or if you have questions:  888-846-5577
The Course has 3 PARTS:
Part 1: Self-paced DVD Education Methodology Premier Course.
Part 2: Additional Course on Specializing in Swing Trading.
Part 3: Implementation of Part One & Two, hands-on training.
Benefits of the Swing Trading DVD course:
This expanded version of the Premier course provides additional Advanced Swing Trading education for swing, momentum or daytraders.
Swing, Day, Momentum  Trader Student Support package included.
Complete Set of Advanced Trading Tools  and Special Swing Trading Tools included.
How to Use Dark Pool Buy Zones to enter before the momentum runs.
Self-graded tests to help you retain what you have learned.
Guidance during your Simulator Trading to hone Swing Trading Skills.
Individual Customizing of your chart layouts, indicator settings, and trading plan for swing traders.
Online Student Wiki files with additional training.
Daily Market Educator email training with ongoing lessons to hone your skills.
Mentoring Sessions with student stock picks analyzed
Each course manual along with corresponding TechniTrader DVDS are designed to maximize your learning experience, as there are numerous detailed explanations and examples throughout each entire course.
Swing Trading Requirements:
Swing trading can be used for a variety of time frames and goals.
You will need:
One to a few hours a day to analyze and trade stocks.
A moderate sized capital base.
Simulator to hone skills and test strategies.
A Broker service that offers professional style orders and routing.
Market Condition Analysis for Swing Traders, taught in our course.
Who should enroll in the Swing Trading Specialty DVD course.
Novice to Experienced Traders: If you want to learn how to swing trade or day trade, this is your course.
Experienced to Advanced Career Traders: If you are ready to take your swing, momentum, or day trading to the professional level, this course will take you there.
Options Traders: If you are a premium trader who wants to trade weekly options, binary, or other new options contracts, this course will give you the training you need to succeed.
Why Take this Course?
This is the ONLY course on swing trading that covers every aspect, detail, and provides a complete step by step process that is customizable to your personal preferences. As a DVD course you are able to study the in-depth training at your own pace and can review the course as often as necessary.
You have a permanent reference resource. In addition the course comes with our ongoing no time limit course support for students at no extra cost.
Contact a Curriculum Advisor:
888-846-5577
or fill out a contact form to have us contact you directly.