See TechniTrader Customized TC2000 Scans in Action
1. How to create scans.
2. Personal Criteria to use in scans.
3. Creating scans for your trading style.
AND MUCH MORE!
This TC2000 Webinar is packed with training on how to optimize your scans for:
Faster Stock Pick Selection | Finding Dark Pool Accumulation | Setting up for HFT Momentum Action | PCF formulas, what is most important | Customizing scans to your trading
Market Condition Analysis was developed by Martha Stokes CMT for TC2000. By using the Power of Worden TC2000 scans, she is able to determine which of the 6 Market Conditions is occurring at this time.
Below is our layout of these scans showing how easy it is to use Market Condition Analysis to know:
What trading style will work best at that time.
What candlestick patterns will be most prevalent and reliable.
How and when to trade and what risk is involved.
Where Dark Pools are accumulating which precedes momentum action.
Where HFTs are active.
Who of the 9 market participants is in control of price.
The numbers in each scan define bias, energy, trend, and other critical factors that help our students know exactly how to trade. To watch a training session on these scans and Market Condition please email info@technitrader.com for the link.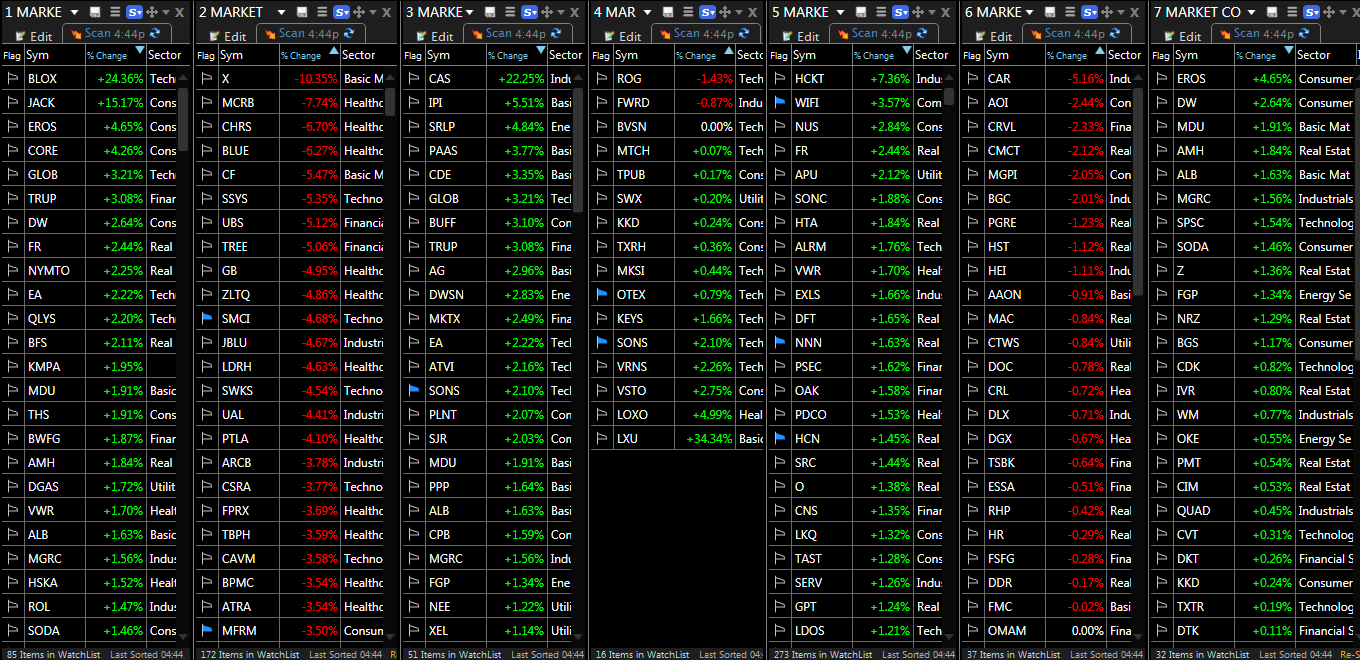 List of TC2000 Scans by TechniTrader
Each course comes with its own set of TechniTrader Scans built specifically for the style of trading or focus of the course material. Contact us for more information.
TechniTrader's Advanced Scans for the ME10 Premier Course:
Market Condition Analysis Scans:
Market Condition Momentum Buy Side
Market Condition Momentum Sell Side
Market Condition Institutional Action
Market Condition Bottoming Stocks
Market Condition Consolidating Stocks
Market Condition Overbought Stocks
Market Condition RSI Strength
Swing Style Trading Scans:
TT Swing Trade Momentum
TT Sell Short Momentum
TT Velocity Scan
TT Sell Short Overbought
TT Option Velocity Scan
TT ETF Scan
Position Trading & Long Term Scans:
TT Position Consolidating Scan
TT Low Priced Stock
TT Position Trade Bottom
TT Position Large Lot
TT Position RSI Scan
TT Position Trade Scan
TT Options Consolidations
Day Trading or Intraday Trading Style Scans:
TT Day Trade Momentum
TT Day Sell Short Momentum
TT Day Velocity Scan