The TechniTrader Market Structure Report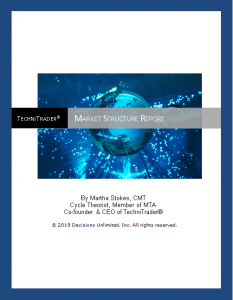 The TechniTrader Market Structure Report opens the door to the inside of the financial markets that is invisible to the average investor and retail trader. It gives you critical information so that you understand how the professional side of the market functions and what these changes mean for investing and trading stocks.
Over 80% of all the activity in the stock market and other financial markets occurs on the professional side. Therefore, it is mandatory that all retail investors and traders understand the internal Market Structure that is essentially hidden from them.
Without an understanding of how the Market actually works, retail investors and traders are left to assumptions based on inaccurate information, leaving them vulnerable to scams and hyped investment advice.
The Market Structure is currently undergoing even more internal structural changes than ever before as more financial institutions are changing everything about how they do business. From Cloud computing to pro traders using Augmented Reality, the changes are going to impact retail investors and traders.
There are many new regulations that have given rise to new technology that helps to maintain compliance for the institutions. Changes going on with SEC regulatory oversight, the Consolidated Audit Trail, the proposed Aggregate Display of intelligent tick size and liquidity, the MiFID II regulations, and the fractured market venues, all combine to create an evolving Market Structure that you need to understand to be aware of the hidden risks of certain trading methods, the ever-present legal manipulation of the mindset of the retail investor, and what it all means for trading and investing in the stock market.
The TechniTrader Market Structure Report explains in detail why and how the inner market is changing and what to expect for the next few years. It is updated each year. It includes information that is vital to your ability to adapt with these changes and to be able to use this information to avoid high-risk investments or trades, and give you the opportunity to earn higher Return on Investment (ROI) in the stock market as well as in other financial markets.
This Market Structure Report will forever change how you view the stock market. It is a must-read for anyone who is managing their own stock portfolio and critically vital to retail traders.
Market Structure Report Overview
1. Introduction to the Financial Market Structure
Read More

The Inner Workings of the Market
Why This Is Important to the Retail Investor and Trader
How and Why Market Changes Are Accelerating This Year

2. Overview of the Financial Market Structure
Read More

What is the Inner 'Market Structure'
Catalysts for the Major Changes
SEC's Role in Monitoring, Regulating and Controlling These Changes
New Regulations that Affect the Professional Side
Internal Structural Changes
New Technologies Shaping the Future of the Markets
Opportunities in the New Market Structure

3. Review of Market Participant Groups
Read More

Market Participant Groups, Changes Influencing the Markets
Buy Side Institutions vs. Sell Side Institutions, the WAR Continues
Certified Financial Analysts vs. Chartered Market Technicians
Sell Side Technical Analyst vs. Buy Side Technical Analyst
The New Role of Professional Traders
HFTs Expanding Role as Liquidity Maker/Takers and Market Makers

4. The Market Structure: How and Why It Is Changing
Read More

Global Stock Market Structure
Market Participant Changes

The Fully Automated Market Maker System
Changes to the Order Processing Systems
Risk Assessment Models

The Impact of These Changes for Retail Traders

5. The US Venues: Dark Pools, ATS, Exchanges
Read More

Overview of the US Venues, Fractured Market
The Exchanges
Changes in Exchange Ownership
Alternative Trading Venues, Evolution Continues
Changes in Functionality of Exchanges and Other Venues
Global Market Impact on US Markets and Venues
How Dark Pools Work
The Key Market Participants Who Use Dark Pools
The Impact of Dark Pools for Exchanges
The Impact for Intraday Retail Traders

6. Global Venues & Regulations impact on US markets
Read More

European Markets
Asian Markets
Emerging Markets
7. New Products for Professional Side
Read More

New Trading Instruments
Derivatives
Multi-Leg Multi-Market Orders
The Challenge of Digital Ledger Development

8. The Institutions: Who they are, how they trade
Read More

The Professional Technical Analyst Roles
How Technical Analysis and Fundamentals Affect Institutional Activity
How the Institutions Will Reshape the Financial Market Structure

9. Looking Ahead: What the Stock Market will become
Read More

The Financial Market Structure, Present and Future
Market Structure Changes in 2018–2022
The Role of Technical Analysis for the Future

10. New Technology Changes Reinventing the Market
Read More

FinTech
RegTech
Cloud Computing Integration
Augmented Reality and Trading
Complexity of Orders and Instruments

11. The Future Market Structure Evolution & Change
Read More

How the US Markets Will Evolve Over the Next Decade
How the Global Markets Will Change Over the Next Decade

12. Summary